Digitally Transforming the Hospitality Industry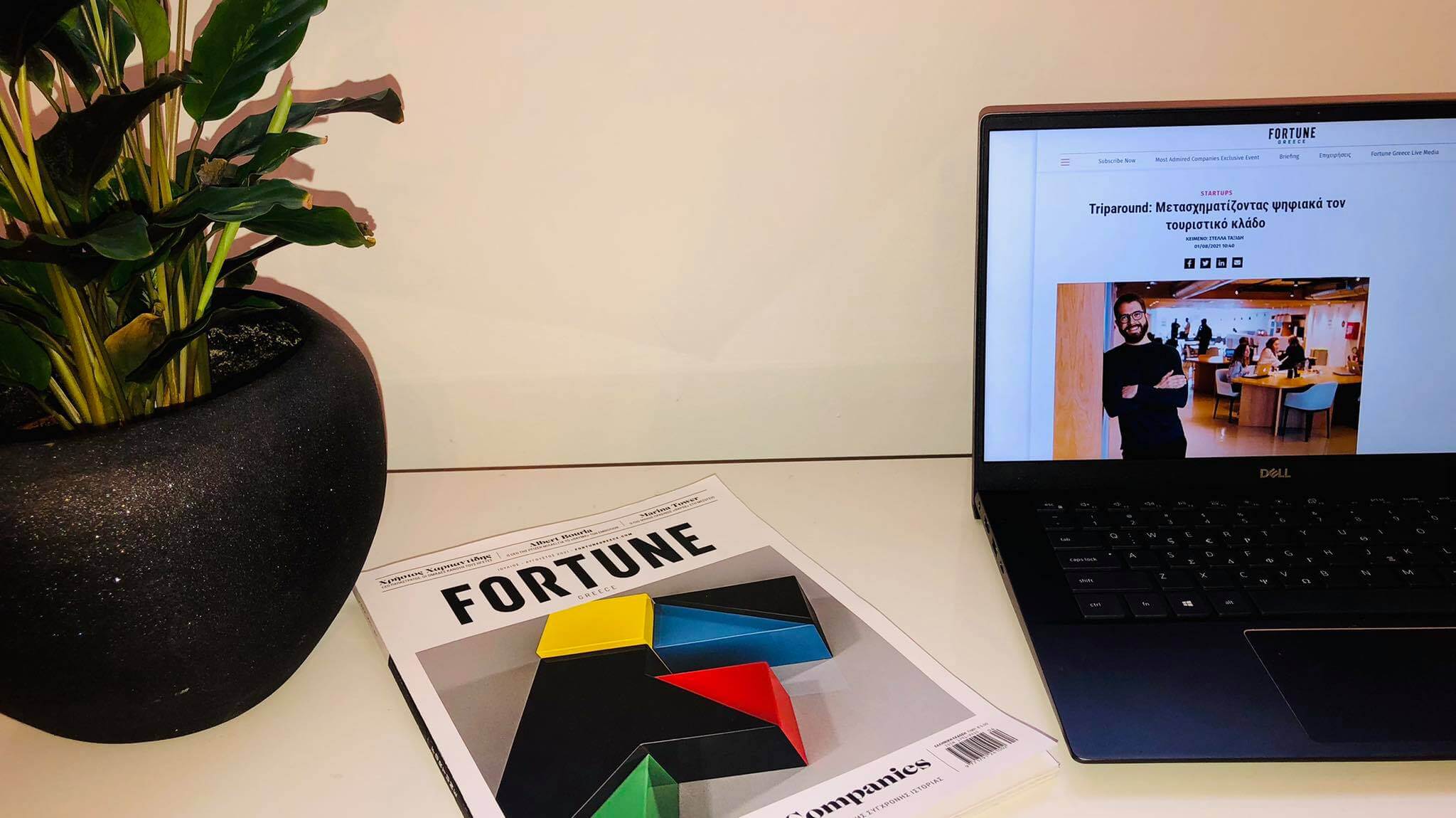 Triparound co-founder and CEO, Antonis Chalkiopoulos talks to Fortune Greece about the new opportunities for digital transformation in the hospitality industry and the Greek startup's plans.
Antonis Chalkiopoulos is a "new entry" in this year's 40under40 list of Fortune, belonging to the 40 innovative and stand-out entrepreneurs under the age of 40 in Greece and abroad. Antonis was recognized internationally in 2020 by PhocusWright as a Young Leader in Tourism, while his company has managed to secure funding amounting to two million dollars in the last two years. This funding from investors such as Laela Sturdy of Google CapitalG and Larry Kutscher, former CEO of TravelClick, truly gave a "vote of confidence" to his operation. Triparound is a SaaS company that operates in Tourism and addresses the needs of hoteliers, travel agents, and destination management companies.
The Triparound software facilitates communication and cooperation between travel professionals, offering a complete and modern experience for businesses and travelers. Antonis Chalkiopoulos talks about the opportunities for digital transformation in the hospitality industry and the Greek startup's plans.
What were Triparound's first steps?
In 2014, together with Andreas Kalaitzis and Thanos Karatzias we founded the company "Tooristas", a pioneer for software solutions in companies that offer tourism activities. The project team joined Eurobank's egg program in 2016, and Christos Stergiou was assigned as the team's mentor. This mentorship collaboration is actually what served as a catalyst for the establishment of Triparound!
Today, the software and the Tooristas team are the company's cornerstone. However, the product has been further enriched with the business logic behind Christos' software. The latter had been developed separately during the evolution of the internationally recognized luxury travel company TrueTrips.
Triparound's customers include, among others: Sani Resort, Ikos Resorts, Costa Navarino, Cabo Villas, Fasano, etc. What makes Triparound stand out and gain the trust of leading travel chains and organizations?
Product quality and ongoing, customer support. The software service Triparound offers is helping travel professionals digitally evolve, replacing complex and outdated software, as well as the traditional triptych: pen, paper, Excel.
The product serves as a daily tool for industry professionals to increase revenue, improve operational efficiency and marketing channels, simplify communication between partners/suppliers and their visitors, minimize human error and assist in strategic decision making.
What are the ingredients of your success?
A key component of Triparound's success is that it is one of the few companies globally that can bridge the gap between the tourism industry and technology.
The product targets hoteliers, travel agents, and destination management companies, equipping them with a complete technological solution. At the same time, it is offering a holistic and modern travel experience to their customers, wherever they are.
Equally important to Triparound's success is the quality of our founding team and the people who support it. Christos Stergiou is an experienced businessman, recognized as one of the top travel consultants worldwide by Condé Nast Traveler magazine and Travel and Leisure for his first startup, TrueTrips. At the same time, I am a software engineer with significant experience in information technology and software development for Tourism, and in 2020, PhocusWright recognized me as a "Young Leader" in the field of Tourism.
Overall, the Triparound team, includes recognized professionals in the fields of IT, sales and marketing, frames, and together we have been able to maximize the company's results and success.
Technology is gradually changing Tourism. What are the prevailing trends and in which direction will the market move?
With technological developments and customer demands changing faster than ever, hotels and travel agents need to respond digitally and strategically regarding their services to keep up with these developments.
Moreover, global trends are now focused on travel experiences, even provided by hotels, which need a state-of-the-art tool that can quickly and efficiently create, present, and execute all services inside and outside their premises. That is the focal point of Triparound.
"The restart of the travel and tourism industry finds us stronger than ever, further targeting the Greek market, although mainly focused on businesses abroad".
Our customers add their services and suppliers, making it possible for reservations to be made in real-time. At the same time, detailed reporting and statistics are available for all bookings made.
Through artificial intelligence, we quickly inform our customers about market trends and consumer behavior, helping businesses boost sales and customer satisfaction and automate other demanding processes. The software's logic has been developed to bring a modern, holistic approach that can also be connected to the hotel management system.
Your company has secured $ 2 million in funding. How did this "injection" of liquidity help you?
The funding received contributed to the continued development and improvement needed for our products. Triparound has the support of an all-star group of investors from Silicon Valley and across five continents.
We have a deep sense of responsibility and honor having such prominent "angel" investors with us, including distinguished members of the US startup ecosystem, such as Threshold partner Andreas Stavropoulos, and Tenaya Capital partner, Ben Boyer.
The Triparound Board of Directors consists of Stanford Graduate School of Business professor and veteran Silicon Valley investor Peter Ziebelman, and Steve Abernethy, who in 2017 sold his startup company for $ 1.4 billion. Additionally, the group of investors includes recognized Greek businessmen and international executives such as Kedar Doshi (Vice President of Salesforce for Analytics and Einstein.ai) and Giannis Dosios (Vice President for Emerging Products on Twitter), who provide their advice.
"Triparound received $ 2 million from investors in the period 2019-2020, intending to boost its growth in Greece and abroad".
Tourism has suffered a significant blow amid a pandemic. How was the operation of the company affected and what changes needed to be made?
The pandemic has profoundly affected our existing and potential customers worldwide. This however has not prevented the "flourishing" of our technological solutions , the development and growth of our team, and the creation of new partnerships with businesses such as Microsoft.
We were able to better evaluate our product in relation to the market, resulting in the specification of potential customer targeting and the creation of partnerships with overseas sales groups. We adapt to new data and meet the challenges posed through flexibility and strategy.
Thus, the restart of the travel and tourism industry finds us even stronger, in a position to better target the Greek market, with further emphasis on hotels and travel businesses abroad, where we have already made our first steps and dynamically continue to pave the way.
What does your participation in the 40under40 list mean this year and where do you attribute it?
This year's participation in the list rewards the efforts made by our team to change the way travel businesses approach an essential part of their day-to-day business.
Even though we are in the early stages of materializing our vision, it is encouraging that both the market and Fortune recognize that we have already built strong foundations. Of course, this recognition is a result of a team effort!
The coronavirus pandemic has highlighted the need for digital business transformation. Now that the tourist season is starting to pick up, what could a travel business gain from its digital transformation? Ηow would Triparound help?
Our goal is to offer travel professionals development opportunities that were previously impossible.
The software solutions we have created enable travel professionals to focus on what is truly valuable, such as reducing business costs, increasing sales, optimally managing suppliers, and building knowledge on customer preferences and the market in general.
We, provide our customers with the technological tools they need to improve efficiency and facilitate the process of managing and promoting their products and services. At the same time, their customers enjoy an unforgettable booking experience before, during, and after their stay.
In conclusion, by taking advantage of the multilevel benefits of Triparound's flexible platform, travel professionals can now safely and comfortably highlight the services they provide to their customers while offering them a holistic and modern travel experience.
What advice would you offer someone who wants to take their first business steps?
Prior to getting started, a thorough study of the market and a clear position of the product and services that intend to be developed by the company is essential. Next comes the building of the right team to frame the entrepreneur and embrace the company vision.
Focusing on success but also on development, mainly through lessons from possible failures and mistakes of the past, will lead to the first small victories. It is also essential to have the right advisors on the entrepreneur's side, but above all, they must believe in their abilities and vision to make the most of the help they will receive. At the same time, networking and collaborations with experienced professionals in a similar field will help in the growth and development of the company.
What are Triparound's next steps and what do you plan to focus on?
In a pandemic, the digital transformation of Triparound products is more relevant than ever. Thus, our company aims to secure new funding within 2021 to support its continued expansion, but also to gain the trust of new investors who will offer growth capital and know-how to achieve Triparound's vision globally.
Original article: https://www.fortunegreece.com/article/triparound-metaschimatizontas-psifiaka-ton-touristiko-klado