Your Travel Tech Partner
Empowering travel professionals worldwide with software solutions to skyrocket their day-to-day business operations
Schedule Free Demo
Our Mission:
Bringing travel planning into the future
Founded by established travel professionals and backed by an all-star team of angel investors, Triparound is a B2B travel tech company with a mission of bringing travel planning into the future. Our tech solutions address the day-to-day needs of travel professionals, enabling them to increase revenue and efficiency, by minimizing human-error and providing sophisticated reporting for strategic decision making – all while wowing their customers.
0
companies served across Europe, USA & Latin America
0
activities & experiences uploaded and turned into online bookable products
0
hotel guests already served through our sophisticated platform
A 100% contactless booking experience for your guests
Triparound propels hotels, from the smallest boutiques to the largest resorts, into unprecedented levels of efficiency and guest engagement. We offer a booking and management tool, which envelops all layers of the guest booking journey, across the entire ecosystem of ancillary services you offer, whether these are offered in-house, or through third-party provider collaborations.
Learn More
An end-to-end software solution for travel aggregators
For DMCs, travel agents and travel advisors our solution touches the very core of your day-to-day business: travel planning. Starting from the sourcing of a given request, moving to the design of a tailor-made itinerary, and concluding with the booking execution of a complete and holistic travel plan for your client, Triparound provides a planning and execution tool, which encompasses all stages of the travel booking journey.
Learn How
Manage and promote your own activities and tours
Triparound provides activity providers and marketplaces with a comprehensive toolkit that enables online connectivity and third-party bookings, allowing their businesses to fully capture and source a customer request, reducing the need for long communication cycles. Exciting, right?
Get Started Today
Interested? Let's get in touch!
More sales? Extraordinary experiences for your guests just a click away? Creating a complete itinerary in less than 3 minutes? The answer is Triparound!
End-to-End Software Solution
Boost Sales
Gain a genuine understand of your customers' needs. Create unique experiences to match these and expand your revenue channels.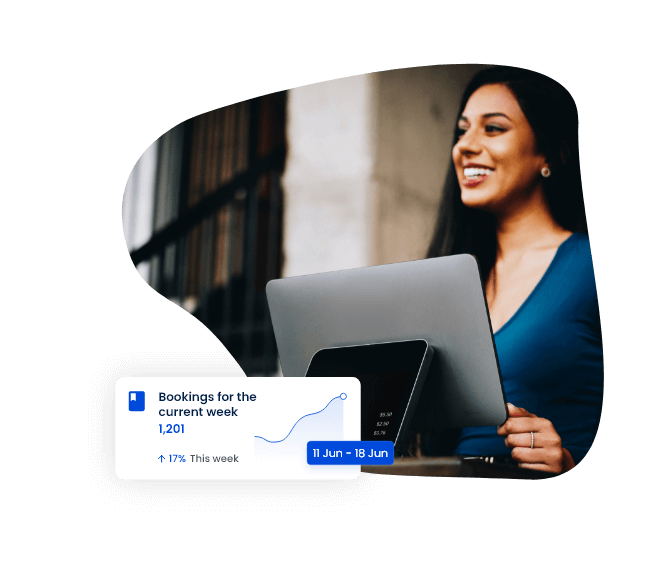 Match Customers' Needs
Transform your offerings in alignment with your customers' needs, enhancing their travel experience.
Expand Reach through Upselling
Create experiences capturing your customers' wishes, before they have the chance to imagine them
New Profit Centers
Let the data lead you in making wise business decisions, leading to incremental revenue streams
Efficiency
Improve speed and connectivity, engage all suppliers and resellers in one platform, provide real-time availability, handle any request in no-time!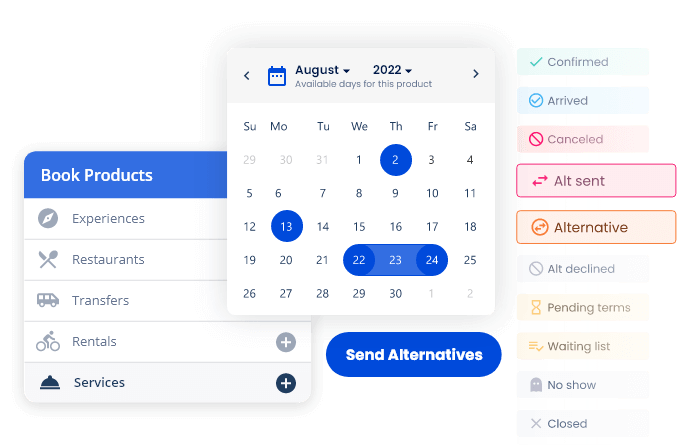 Simple and Easy Actions
Increase speed in everything you do -from creating memorable experiences, executing bookings, managing your teams to organizing your resources
Best-in-Class UX
Intuitive to learn and use! Navigate through your workflow smoothly, reduce time needed to transition from a legacy system, perform key functions, and train new users
Painless Data Migration
Worried about transitioning to new software? Triparound has created tools and processes to make that transition for you stress-free
Guest Experience
Book extraordinary experiences at a click of a button; make your guests feel special, build customer loyalty and make your business stand out from the crowd!
Best-in-class CX
Unique user experience for itinerary building. Easy to navigate, seamless and modern online presentation
Valuable Data on Customers
Source and categorize customers, customize activities and itineraries, dynamically price travel experiences, know and analyze customer preferences and improve their engagement
Promote your Inventory
Design experiences with ease, enable quick and easy bookings, market your product line and upsell to your customers
Want to learn more?
Schedule your free demo today and learn more about how Triparound can boost your sales and bring your travel business into the future!