Triparound's Integration Collaboration with WebHotelier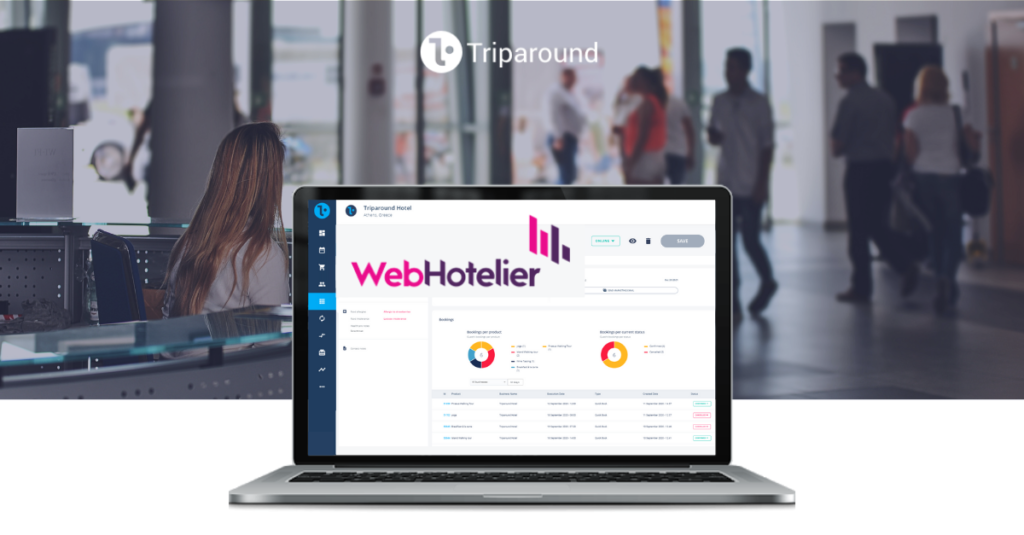 Triparound is proud to announce its new integration partnership with WebHotelier. More than 7,200 hotels across several territories trust WebHotelier as their Room Booking Engine and Channel Manager.
The problem
Commonly, room bookings are separated from bookings for hotel ancillary services, such as car transfers, spa treatments, and tours. This creates a burden for the hotel's team as they struggle to have a holistic overview of a guests' stay, bookings, and preferences. Additionally, hoteliers cannot always offer their guests an end-to-end booking journey, as the room booking engine does not accommodate bookings for ancillary services based on live availability.
This is where Triparound steps in!
Triparound's integration with WebHotelier bridges the gap between room bookings and hotel ancillary services bookings. By introducing this integration, hoteliers that use Triparound and WebHotelier can now generate incremental revenue and increase their guest's experience. How? By using an incoming room booking to trigger a marketing email to upsell ancillary services to guests!
More specifically, when you activate the integration's email marketing functionality, you can send automated emails to upsell services like boat tours, car transfers, outdoor activities,rentals, wellness treatments etc. And last but not least, hoteliers using Triparound can maintain a complete guest profile that includes information about their guest's stay, activity bookings and preferences; everything automatically tracked in one place!
How it works:
Navigate to the Room Booking Engine section of the Integrations menu.
Activate the integration by providing your WebHotelier company code and pasting the Triparound delivery URL in WebHotelier's API account settings. When activating the integration any room bookings received through WebHotelier will be synced with Triparound.
Additionally, by activating the automated marketing mail function, the email template you have selected will automatically be sent to your guests and prompt them to book ancillary services of their preference.
What does room booking syncing mean?
Once you have integrated Triparound with WebHotelier, when a new room booking is made through WebHotelier, the corresponding guest profile on Triparound will be updated. If the booking is made by a new guest, a new profile will automatically be created.
As shown below, the "Stays" section on the guest profile will automatically be updated with info such as associated rooms, check-in, check-out, and reservation number.
This is an excellent tool for your team as it aids them in personalizing the guest experience even further. Your team can view a guest's bookings categorized by current or previous stays, even when they are from related or sister businesses.
But that's not all. Triparound offers a complete arsenal of tools for the sophisticated hotelier to:
Generate new channels of revenue.
Gain valuable insights on activity trends and guest profiles.
Manage all suppliers with ease and efficiency.
Increase guest satisfaction.
Make all activity bookings and communications contactless, eliminating COVID-19 stress.
Schedule a FREE demo with our team and discover how we can bring your travel business into the future.