Overbooking Functionality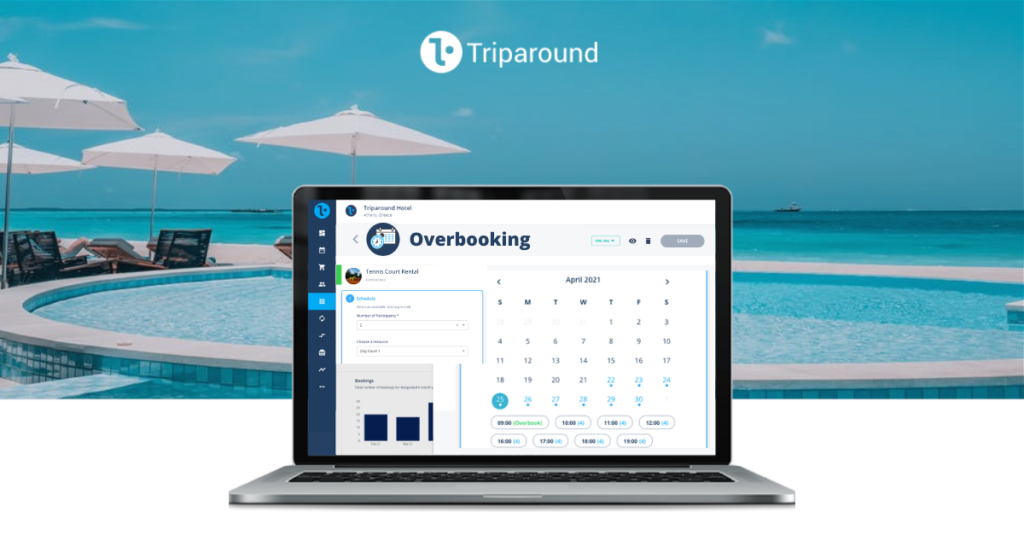 As we are constantly working on improving our offering, we are excited to introduce the
overbooking functionality
which is up and running and ready to assist your business to maximize sales from your ancillary services.Our brand-new functionality counters the issue of revenue loss which occurs as a result of no-shows and cancelled reservations that are regularly identified on offered services. Now, rather than simply submitting to the loss of revenue from a no-show, you can assign more slots than those available. Given that this is a feature that might bring ambiguous results, the management team has full control over the extent to which overbookings can be made.
The problem
No-shows, rescheduling and cancellations are frequent issues when it comes to ancillary services such as tours, bike, court and car rentals, fitness studio bookings and dining; and even more so when it comes to services that are free of charge. Commonly, free of charge services are booked at full capacity but actual attendance ends up being at low levels. This deviation between demand and actual attendance leads to lost revenue and underutilization of a company's resources and staff.
This is where Triparound steps in!
The fresh overbooking functionality grants your team a powerful tool to provide better service to your guests, optimize session attendance and avoid this lost revenue. The aim is, of course, to achieve 100% occupancy at peak times and not to undersell your services as a result of cancellations and no-shows.
How it works:
With the Triparound overbooking feature is that your management team can now control the number of slots that can be overbooked for any session of a service or experience with just a few clicks.When the overbooking functionality is enabled, your team can use the "Book now" button on the Triparound dashboard to "overbook" a service that has already been booked at full capacity.
As an example, if you have identified that tennis court no-shows are common, your staff can "overbook" the slot for tennis court rentals. If indeed there is a no-show on the day of the booking and you have pre-activated the overbooking functionality, you have successfully covered the gap and offered the opportunity for an additional guest to enjoy the tennis lesson instead. With just one move, you've you managed to increase customer satisfaction and revenue at the same time. A win-win both for your hotel and your guest!
Now, in cases where there isn't a no-show, we suggest your management team prepare a solid action plan in order to carefully manage these extra bookings and decide how to indemnify the extra guest/s. We know it can be tricky sometimes, but with the right strategy you can get great results – and if you are wondering which is the right one for your business, take a look at airlines whose successful strategies are based on the overbooking rational for many decades now.
At Triparound, as we understand how powerful this tool can be, we provide our clients with the option to activate this feature only when the designated user of the platform identifies the need and decides to do so. So, we strongly recommend utilizing the user rights wisely and assigning the use of the specific functionality to a decision maker, i.e. the Head of Concierge, the Sales Manager or even the hotel owner, depending on your team structure.
This feature is only accessible for bookings made by your team and its activation and modification is only available to staff that have Business role permissions.
To tackle no-shows and cancellations from the guest perspective, you can utilize the waiting list feature.
But that's not all. Triparound offers a complete arsenal of tools for sophisticated hoteliers to:
Generate new channels of revenue.
Gain valuable insights on activity trends and guest profiles.
Manage all suppliers with ease and efficiency.
Increase guest satisfaction.
Make all activity bookings and communications contactless, eliminating COVID-19 stress.
Schedule a FREE demo with our team and discover how we can bring your travel business into the future.