Triparound: Bridging the Gap Between High Touch & High Tech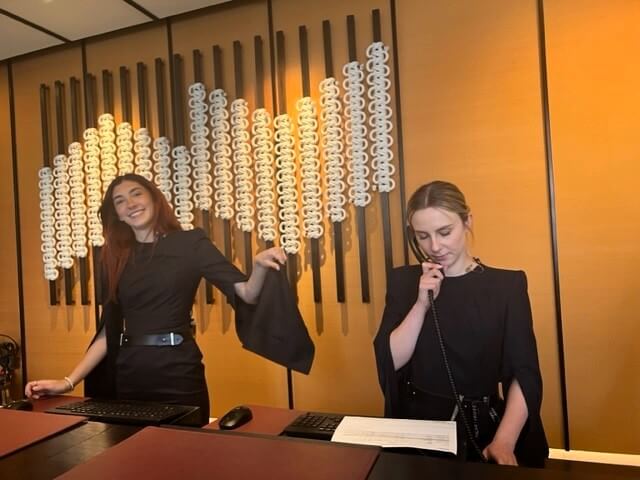 The Evolution of Hospitality – From Transactions to Experiences
Luxury hotels have traditionally been driven by high touch and personalized service, where face-to-face interactions and genuine human touch took center stage, with the focal point being rooted in physical assets. However, the advancement of communication, transportation, and information technology has ushered in a new generation of worldly travelers, who are digitally adept, seeking indulgent, one-of-a-kind experiences. This notable shift in the hospitality industry, dubbed the "experience economy", has prompted hoteliers to craft unique and tailored offerings to match the distinct preferences of each guest. 
In today's travel industry, achieving and maintaining a competitive edge is about going beyond guest expectations. It entails creating an impactful "wow" effect that defies replication. In this context, technology can act as an enabler for gaining that competitive advantage by providing essential tools to deliver superior guest services. Most would go even further and argue that technology plays a critical role in the enhancement of customer experiences by capturing guest-centric data, which is indispensable for tailoring a truly customised service. Remarkably, the hospitality industry has embraced the importance of experiential travel, yet still lags behind in the tech realm.  
This is precisely where Triparound comes in. At the core of the tech company's philosophy lies the effort to bridge the gap between high touch and high tech by providing an umbrella solution that augments the operational efficiency of concierge services, rather than supplanting them. This approach seamlessly delivers the best of both worlds, allowing travel companies to embrace traditional aspects of service, while acknowledging the inevitable adoption of high technology.  
Unlocking New Age Luxury
How then can this approach be effectively applied in practice? Enter, Triparound, a sophisticated all-in-one platform which enables top-tier hotels and luxury vacation rental companies to streamline their guest services' booking process through features like user-friendly "Book Now" buttons for online reservations of experiences, personalized itinerary creation, and enhanced interactions with in-house profit centers and external suppliers alike. The innovative platform helps these businesses increase guest spending in the vicinity of 4X in ancillary revenue, improve team efficiency that halves the time spent on booking processes, and enhance the overall guest experience. Moreover, all relevant data is centrally collected, securely stored and readily available for analysis – providing significant value for strategic decision making, further increasing operational efficiency, and developing guest loyalty programs. The cherry on top is Triparound's remarkable flexibility, making it adaptable to different business environments, whether it's a resort with hundreds of rooms offering a wide array of activities, a small boutique hotel, or a vacation rental company spanning across multiple locations.
5 Key Tips to Starting your Digital Transformation
As you're reading this, you might be pondering how to begin this journey. Here are Triparound's top tips to get things started: 
1. Revisit your Tech Budget
In an ever-evolving landscape, travel industry professionals must recognize the pivotal role of technology and reevaluate their approach to budgeting for it. Neglecting the importance of a robust tech budget, relegating it to an afterthought or merely allocating what's left over from other priorities, echoes the past mindset towards marketing. Today, it's crystal clear that marketing is a cornerstone of a travel business. Similarly, being frugal with technology investments can no longer be the strategy. Embracing technology is the key to outpacing competition, meeting rapidly changing guest expectations and standards, and establishing a sustainable and scalable business model. To stay ahead in the industry, invest in technology wisely; it's your ticket to success.
2. Define your Focus
Travel tech software for concierge services provides a wide array of features to address diverse needs. It can sometimes be difficult to distinguish between software and understand which one to choose for your business. The best way to begin is by determining your primary focus: are you interested in optimizing your team's operational efficiency or unlocking the hidden revenue channel of "guest services"? Depending on your choice, start looking for a solution that can tailor an implementation plan for you, aligned with your specific objectives and budget, ensuring you harness the full potential of the transformative tech trend.
3. Start Small & Engage the Team
In pursuit of effective project management, adopting a phased approach is often advisable. It's common for organizations to express a desire for a complete overhaul right from the start. However, we don't recommend the overhaul street – we advise a gradual integration of new technology into your daily operations and using the transition as a learning experience to identify additional business aspects it can resolve. For instance, you could begin by digitalizing the booking process for your car transfers, see it's worked miracles for you, and then take the next step to other guest services.
Effective project management also entails having clear accountability for its outcomes. Make note to check whether your company of interest offers a dedicated point of contact, such as a Customer Success Manager who provides guidance, onboarding and training to optimize the use of their solution. Additionally, we've found that the most favourable outcomes are attained when you also designate a doer as the project leader on your end, who will collaborate closely with the other party to move things forward, resulting in a smooth and efficient setup and implementation process.
4. Utilize the Experts
In the same line of thought, Customer Success Managers bring a wealth of experience, serving as invaluable resources for your digital transformation. Don't hesitate to seek their expert advice and guidance. Their practical insights can play a pivotal role in achieving your goals and optimizing your journey.
5. Learn from the Data
The beauty of bringing technology to your business is its ability to give you back actionable input! Data that provides you with invaluable insights that can truly shape your future strategies. Before reaching that advanced stage though, begin by observing and tracking trends in general, and collaborate with your team, advisors, and partners, to implement incremental improvements that will yield positive changes starting now.
Your Digital Transformation Partner through the Words of Seasoned Travel Industry Managers
In the fast-changing world of hospitality, where technology and personal touch coalesce, Triparound has emerged as the bridge between these two worlds. As attested by their esteemed clients in the likes of Sani/Ikos Group, Aman Resorts, Costa Navarino, Mitsis, Onefinestay, Villa d'Este, Savoy Signature, WIMCO, and Natural Retreats, among others, Triparound excels in enhancing guest experiences while preserving the crucial human connection.
Elena Terizaki, Recreation & Leisure Manager at Costa Navarino, a sprawling activity-packed resort with four distinctive hotels observes that "Triparound is a very easy to learn, practical and helpful everyday tool for our associates, as well as for our guests. In addition, it allows us to create statistics and track our business progress, which has proven very important to us". Furthermore, Julie Byrd, President at Cabo Villas a premier US vacation rental management company overseeing an exclusive portfolio of over 100 luxury villas in Los Cabos, Mexico, adds that "Triparound has revolutionized the way we create custom itineraries for travelers…We are thrilled with the level of support and innovation that Triparound brings to the table, as it enables us to tailor our services to the unique needs of our business".
As echoed by satisfied clients, Triparound emerges as a vital asset, seamlessly enhancing the guest experience and propelling business growth.