Table Management Functionality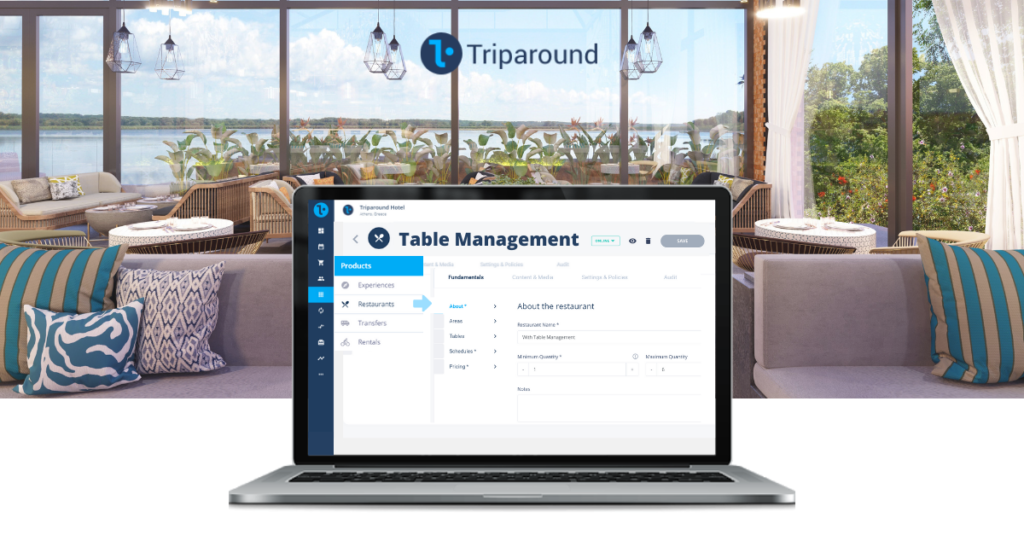 At Triparound, we never stop looking for ways to improve our product so that hotels can gain an edge over their competition and offer the best overall experience to their guests. Staying on top of innovative technology can really make all the difference!
In this context, we are thrilled to be sharing the new broad spectrum of possibilities our latest developed feature can offer you! We recently revamped our Table Management feature with an aim to relieve you from the stress of keeping track and staying in line with social-distancing restrictions and ever-changing capacity guidelines.
The restaurant staff of your hotel can now verify which tables are available and when, allowing them to seat guests much faster while always maintaining a clear and organized view of the floor. Restrictions can be predefined in the system so that your staff will not need to worry whether they can accept a reservation or not, saving them valuable time —and energy.
This, in turn, will lead to more efficient communication between all involved parties; the hotel's management, the restaurant staff, and most importantly, your guests!
Let's see how! 
Pen and paper have long been eclipsed for hotels that use Triparound for their bookable services. Same for their restaurant reservations; no more classical hand calculations to scrutinize available seats, no more inquiry emails, phone calls, or guests queuing up to speak with the concierge or Maître d. Triparound's existing "Restaurant product" is a concise tool that allows for easy and real-time allocation and restaurant capacity management. Customers can make online reservations through the hotel's website by just clicking the BOOK NOW button. At the same time, the restaurant staff can make bookings on behalf of guests, as well as easily organize capacity according to available resources.
So, what is different now? 
Firstly, the Triparound Table Management feature allows the user to split the restaurant into different seating areas, if available. For instance, you can set up your smoking & non-smoking room, outdoor & indoor area, rooftop & balcony, etc. and their respective capacities.
Furthermore, the chief of the restaurant can also manage and allocate each area type, its overall capacity, and the number of different tables available. For example, you could label one area as "Garden", allotting 4 tables of 2, ideal for couples looking for an atmospheric dinner in the serene garden area of your restaurant. You could label another area as "Main Seating Hall", allotting 10 tables of 2, 5 tables of 6 and 20 tables of 4,  perfect for bigger crowds looking for a vibrant night out.
Even if there is only one available restaurant area, the manager can set it up in the system in order to know about and better manage all the tables of this specific area. All the venues you set up in the system will automatically appear on the widget that is embedded on the hotel's website.
On top of that, we've introduced a new functionality which allows you to allocate capacities per available tables, instead of per individual customer or number of seats. The user can easily adjust capacities based on the flow, the day, or any other reason. If, for example, the manager knows that the restaurant is extremely busy or understaffed at 9PM today, he/she can reduce the number of available tables at that time from 10 to 7. This way the restaurant will avoid having unhappy customers and reduced staff productivity. At the end of the day, we all know how big a part these details play in reaching soaring guest satisfaction levels and unforgettable experiences.
How it works: By just clicking on the "Areas" tab for each of your restaurants, you can set up the necessary info for each area (name, description, order, etc.). This section allows you to set up the initial parameters for your various restaurant areas.
Further, you can log your tables by setting up their details (i.e., table name, area, min & max number of individuals, etc.) either table by table or per area.
The main difference following the recent revamp of the Table Management feature, can be found in the "Capacities" tab, where the user can now view a detailed list of stats automatically.
Stat example: On Thursday, April 1st of 2021, at 8 pm at the restaurant "Nadine", the "Outside Area" Schedule has 4 out of 6 available tables and 24 out of 32 available seats. 
Yes, but how will this upgraded functionality increase customer satisfaction? 
The table management feature considerably improves the guest experience from the very first step. Whether your customer chooses to book on their own or go to the concierge or the Maître d, they are privy to a seamless booking experience, where they can select the area in which they want to dine as well as the available time slots. When the time comes, the customer will be seated quickly, efficiently, in the seating area they have selected, without any fuss or mishaps.
As a modern hotelier, you know better than anyone that impeccable guest experiences are essential for keeping your business differentiated and unique.  
A luxury hotel room is not enough; travelers look for memorable experiences above all. And a memorable experience starts with a unique booking journey! With Triparound, the booking journey is flawless!
Our platform provides you with an online booking engine to offer all your activities and experiences with real-time availability. Empower your team with our robust all-in-one tool to make these experiences available to your guests in a convenient, secure, and contactless manner. After all, prioritizing guest safety through the proper capacity management of your restaurants, pools, spas, meeting rooms, and overall venues is essential in the post-pandemic era!
But that's not all. Triparound offers a complete arsenal of tools for the sophisticated hotelier to:
Generate new channels of revenue.
Gain valuable insights on activity trends and guest profiles.
Manage all suppliers with ease and efficiency.
Increase guest satisfaction.
Make all activity bookings and communications contactless, eliminating COVID-19 stress.
Schedule a FREE demo with our team and discover how we can bring your travel business into the future.